This post is also available in: Français (French)

Tadaaa, The Outpost and Galnet Audio FR are back!
"The Outpost #107" sums-up the main Elite news from July to December!
Follow us on Twitter @RemlokEN, and join the community on Discord.

Frontier News
Chapter 4 Pre-3.3 – July to November
Commanders, good evening and and welcome to this new recap: The Outpost, for Elite: Dangerous!
If you don't know the concept of this article: it is a weekly newsletter published every weeks on Remlok-Industries.fr (usually during the week-ends). You will find crucial information about the game, comments from developers, images and videos from the community, stories and events taking place in the game.
Iin short: a concentrate of news by and for players.
The official newsletter focuses on a quick overview and store promotions, The Outpost focuses on what really makes Elite: Dangerous: its community. Thanks for stopping by, enjoy the read and fly safe! o7

The story unfolds very slowly since the Summer holidays, here is a summary from the Elite Lore.
During this period, the developers continued to develop the Chapter 4 content while improving the internal structure of the game. Without exciting new features, the slow paced content and poorly written Galnet news, many players took a break during which they played casually now and then, bringing the game population to its lowest point. Let's call a cat a cat, all the pilots were waiting for the famous Chapter 4 which would be the last part of the story spread over the last two years. Most of the mysteries should be revealed, careers enhanced, many improvements to be added to the game and a grand final chapter.
June and July 3304

Two groups "The Church of the Eternal Void" and "The Cult of the Far Gods" collide. The latter announce having privileged contacts with the Thargoids, but after a few months of investigations, no link are discovered and they are classified as fanatics. As a result of this classification, many members of the cult are missing, perhaps returning to their normal lives so as not to be discovered by the intelligence services.

August 3304

A report from Ram Tah indicates that large thermal signatures have been identified near NGC 2451A sector, the IC 2391 sector and the Synuefe EN-H region. Here, we found the Guardians Beacons. These helped us to triangulate positions of new Guardian Structures as well as to discover Guardians vessels plans.
Thanks to the numerous experiments led by Ram Tah and the scientists, three hybrid Guardian-Human fighters are developed: Lance, Javelin, Trident. [Guide to unlock the new techs]

September, October and November 3304

President of the Alliance, Gibson Kincaid is re-elected, with Edmund Mahon as prime minister. Two other contenders for the presidency, Elijah Beck and Fazia Silva competed against Gibson with a different policy and edicts. Fazia stood out and hoped to strengthen the Alliance's economy, but she was assassinated before the elections, for no apparent reason.
The Gnosis (Cannon Interstellar's megaship, a scientific group) tried an unauthorized jump on a permit system. They are certain to discover interesting things about the Thargoids in the Cone Sector FN-J b9-0, however the ship is forcely dragged out of hyperspace earlier than expected, in Outotz ST-I d9-6, and attacked by the Thargoids. A new class of interceptor far superior to the others is discovered: the Hydra. Many lives are lost, but the galactic community defended the Gnosis at all costs, allowing repairs and retreat of the megaship.- Full recap

November 3304

After months of investigations about robots, serving different services, it turned out that a very large number of them contained a hidden surveillance program. Despite threats to disclose more information, the Federation puts pressure on the journalists and no further information are filtered.
Sirius Inc., which had previously acquired the Meta-Drive Company, contacted Ram Tah to cooperate on the creation of new Guardian technologies. Ram Tah refuses this singular offer, and a few moment later, his laboratory is attacked in November by "Unknown" assailants, who turned out to be Sirius Inc. employees. Li Yong-Rui claims that he is not involved in this criminal assault, and the administration will judge these criminals.
Frederick Yamamoto replaces Riri McAllister as Admiral. He is a very close friend of Gibson Kincaid.
Aegis Core is relocated to the Sol system to protect the interests of humanity more effectively.
The fight against the Thargoids continues, and the story is always revealing more mysteries than we can solve.
Exploration expeditions are conducted such as Small World Expedition 3, The Great Expedition 3304 or the Autumn Odyssey.
Feel free to visit these sites and join their communities:
Chapter 4 Post-3.3 – December and beyond
December 11, it's the release of Chapter 4 Elite: Dangerous!
The population of the game triples quickly and the servers are struggling, causing instabilities and connection issues every night since then. Not to mention the obvious new bugs, the Background simulation is a mess because the tick's time is inconsistent and the factions influences are freezing everywhere, but the community remains quite positive and shares its joy about the changes made to the game as well as many images.
Next season content in 2019 is not yet unveiled, but this should be a big change for Elite: Dangerous. Many clues have been left here and there, with the recruitment of designers for vehicles, characters, armour… Zac Antonaci, director of communications, also reported that we are now at 4 months of production Season 4 for 2019. The content is already in development.
When Frontier invited me to Cambridge in October, many devs areas were closed and hidden to us so that this future content could not be spotted. I can't wait to discover what Frontier Dev has to unveil next year, and as always I will be there to recap everything o7
We are hoping for news by the end of the first quarter, after the release of the new Icy Planets and the Fleet Carrier for the Squadrons.
I published, localized, and updated many articles that I invite you to read here: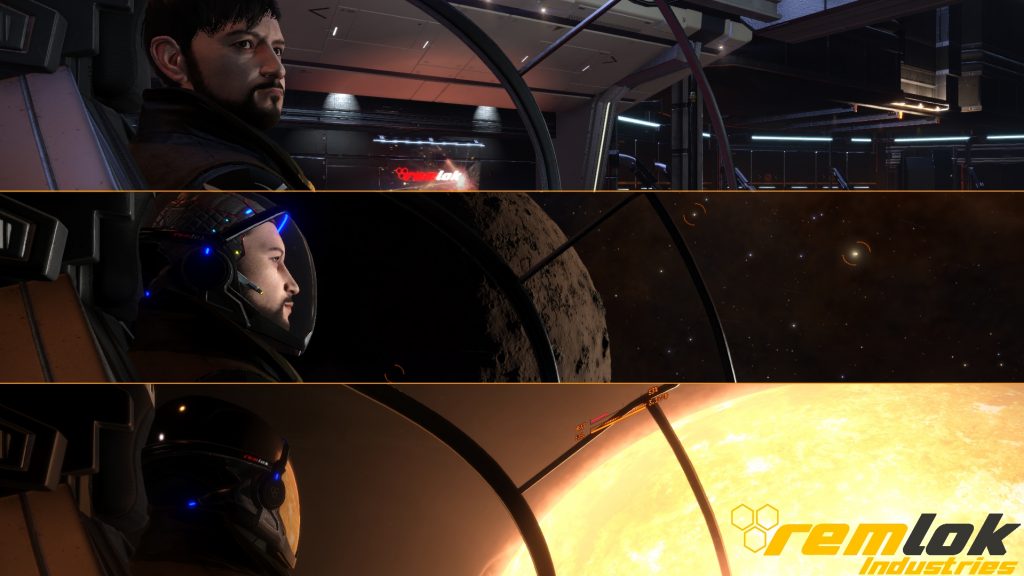 Developers and community
A dedicated space about Devs' messages from the forums and social Medias.


Powerplay and Lore
Powerplay is an ongoing battle for interstellar conquest and control. Players can choose a Power, help guide their strategy, and take on special objectives to advance their shared cause. Player choices and actions have a direct and visible impact on the balance of galactic power.

◘ 11 December – A new networked database system named the Codex has been released to the galactic community.
The Codex is a joint initiative from the Pilots Federation and Universal Cartographics, which issued the following joint statement:
"We are pleased to announce that the Codex has been automatically uploaded to the onboard systems of all vessels registered with the Pilots Federation. The Commander section of the Codex collates all ship data, including the pilot's personal achievements, while the Knowledge Base contains information on the galaxy's most prominent organisations and individuals. The Discoveries section is designed to support deep-space exploration. As well as cataloguing stellar bodies and other phenomena, it also logs confirmed and unconfirmed findings from fellow explorers. We hope the Codex will prove valuable to all Commanders, and we look forward to it being updated with their findings."
◘ 11 December – Two new ships marketed towards independent pilots, the Mamba and the Krait Phantom, have just hit the market. Zorgon Peterson issued the following press release for its new vessel:
"If it's speed and firepower you want, the Mamba is for you. Based on a racing prototype, it's the fastest commercially available starship, and it sports enough hardpoints for a range of devastating weaponry. Whether you're leaving competitors in the dust or running rings around those pesky Thargoids, think Mamba!"
Faulcon DeLacy also released a statement for its latest design:
"The Krait Phantom offers true multi-role capability, allowing it to be customised for combat, mining or trading. And for explorers, its impressive jump range means you really can reach out to the stars. This is a ship that can handle it all."
◘ 13 December – Hadrian Augustus Duval, the long-lost grandson of Emperor Hengist Duval, has broadcast a message to the Empire:
"I am no wealthy senator from an entitled family, but someone who has lived an ordinary life. Someone who understands the hardships faced by many Imperial citizens. As Hadrian Jansen, I was a poor child with no family other than my father. Together we scraped a living as independent traders. He never spoke of his past – not even when he died two years ago. That was when I inherited his ship and became a Commander myself. When Imperator Mordanticus informed me of my heritage, I knew I had to accept my identity as a Duval. I've seen how diminished the Empire has become, and I know that new leadership is sorely needed. I ask you to honour the legacy of the Duval bloodline. With Nova Imperium, let's save the Empire we love."
◘ 14 December – The Interstellar Health Organisation (IHO) has delivered a preliminary report on the nanomedicines recently developed by Vitadyne Labs. The summary stated:
"Nanomedicine is a carefully regulated branch of medical science, with little scope for public application, but Vitadyne's nanomeds are more sophisticated and reliable than any existing product. Furthermore, Vitadyne's data regarding healing, disease treatment and extension of longevity has been verified. Having confirmed the product's effectiveness, IHO teams are now conducting independent tests with patients."
Media outlet Vox Galactica published this viewpoint from healthcare analyst Dr Himari Grey:
"The pharmaceutical industry is astonished that a small company like Vitadyne could produce something so advanced. Professor Katrien Rook's credentials are impeccable, of course, but this is a work of genius. These nanomeds could be the most exciting thing in medicine for decades."
Galnet.fr proposes the latest news from the galaxy!

Galnet.fr/en – Galnet News
GalnetAudioFR – Dubbed Galnet, in French. Let me know if you would like to do this in English! Here are the examples in French.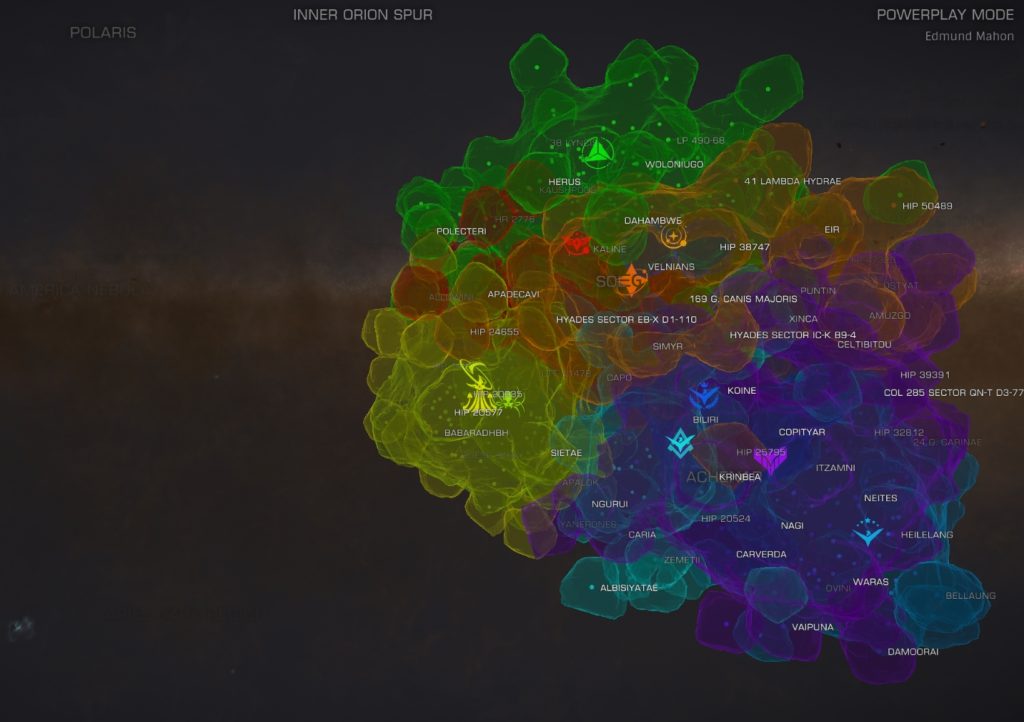 Community Goals
Community Goals allow the community to work together on an ongoing project. Fight, trade, smuggle, explore and help the factions and super powers to achieve their goals.
There is no good or bad sides, write your stories in Elite: Dangerous while earning credits!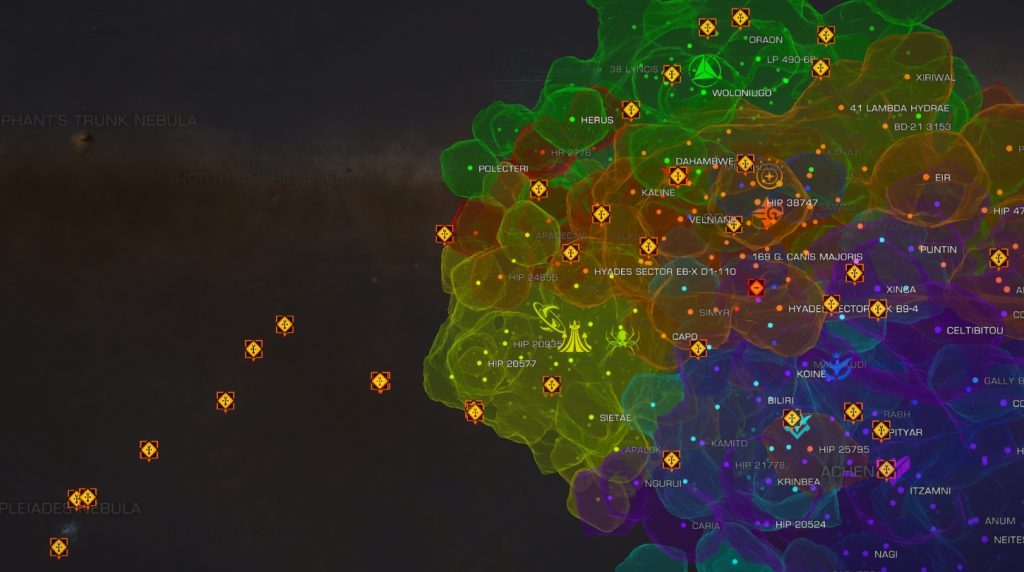 ◘ Fight for Wally Bei Technical (Combat)
Location:  Wally Bei | Boas Terminal
Objective: Fight for Wally Bei Technical in the Conflict Zones, and sell the combat bonds on Boas Terminal.
Rewards: Credits

Progress: 4/8
Until: 20 December
◘ Fight for Wally Bei Constitution Party (Combat)

Location: Wally Bei | Boas Terminal
Objective: Fight Wally Bei Constitution Party in the Conflict Zones, and sell the combat bonds on Boas Terminal.
Rewards: Credits
Progress: 1/8
Until: 20 December
Galnet News:
Conflict has erupted between two opposing factions in the Wally Bei system.
Hostilities were triggered after Wally Bei Technical claimed to have discovered stolen food shipments aboard their rival's transport vessels. The faction's spokesperson said:
"Robbing innocent people of vital supplies is nothing less than an act of war, and we are treating it as such."
This was denied in an official response by Traditional Wally Bei Constitution Party :
"This outrageous accusation is intended to drive off our trade partners and damage our economy. We won't tolerate such slander!"
Military leaders from both Wally Bei Technical and the Traditional Wally Bei Constitution Party have issued calls to independent combat pilots, offering rewards for their support.
The two factions have set out week-long operations that will begin on the 13th of December 3304.

Pics of the Week
Feel free to send me your prettiest images and videos via Twitter, Discord or directly in the comments!
Thanks a lot to Zer0axis, Madaxo, Jetsukai, Placyde, Ghost Giraffe, ToCoSo, Canthor, OrangeMagik, Victor Pallatto, Alex Storch, Evelyn Orwell, Kazahnn, Helios Erebus, Guru951, Peter Wotherspoon, Bec sPyren !
And some more recently: Thank you Guru951, NickC, Eli, Madaxo, Campbell, NatalieW, Tranzol.

Videos of the Week
Look at these amazing creations from our community! Are you creating content as well? Let me know in the comments or directly on Discord!

The creators: Kouz, MiniwiSatN, Flyingspaghetti, Arburich

Angry anomaly! pic.twitter.com/ewYmGZmyvo

— 🌊🦈 Whitetip Queen 🦈🌊 (@FrameshiftShark) December 12, 2018
wtf pic.twitter.com/8UoYn0vSg1

— Cmdr Suny (@cmdr_suny) December 12, 2018
Do you like the Outpost? We'd like to hear from you in the comments!