This post is also available in: Français (French)

You may have already read the 129 data–Lore about the Guardians? It is now time to get these 28 new data by yourself!
→ Guide to collect the 101 old data: Guide

The ship
Any ship can be used, however I'd advise you with a medium-sized solid vessel to counter the potential aggressive pilots in the vicinity; yes, you will have to brave a little the dangerous Open World. An Asp Explorer obviously does the trick, a Python, a Diamondback, a Cobra – your call. 30 LY jump add a nice comfortable touch and Sulphur/Phosphore is nice to have in order to refuel your SRV.
16 to 18 units free in cargo is recommended in case you decide to store some ancient items in your ship, it is much more convenient and quick in the long run than to mop on the ground in search of an item. The best is to fit the new Class 4 anti-corrosion cargo that you can unlock at a Tech Broker Human.
Of course, a SRV Scarab is mandatory in order to investigate.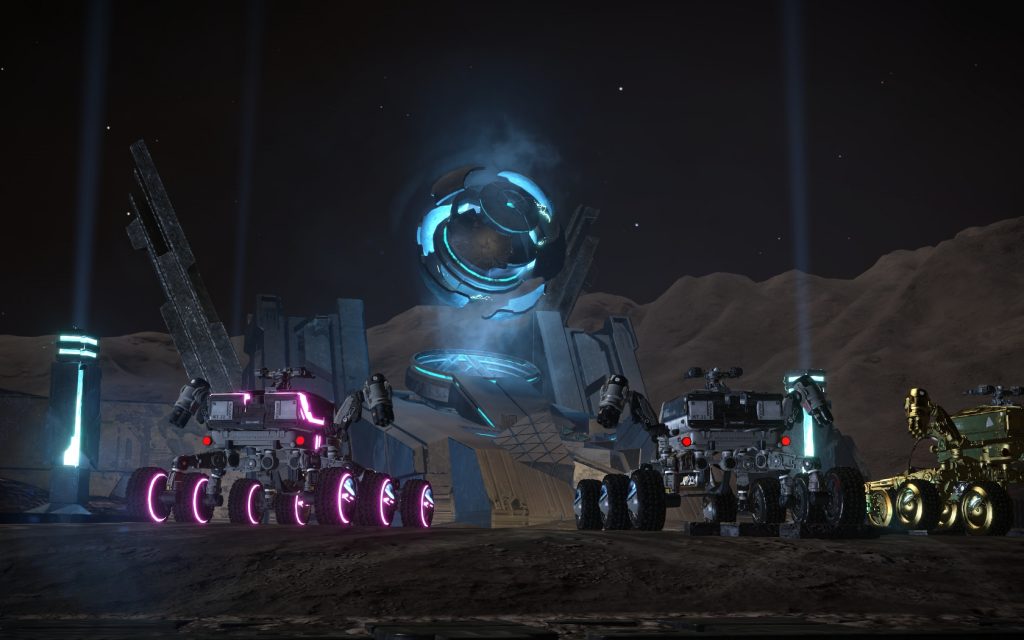 The Ancient and Thargoids items
There are 6 ancient items and 3 Thargoids items and these are the ones allowing you to collect the valuable data of the Guardians.
You are likely to be destroyed when collecting Thargoids tissue samples. You are free to collect all three samples at the start of your mission or rather the end after scanning the data that does not require these Thargoids objects. Use a Research drone controller on the desired Thargoid Interceptor (Cyclops, Basilisk, Medusa) then keep your ship's temperature under 15/20% heat so you do not get spotted. The Thargoid will try to intimidate you with Thargons, but do not run away if you are under the required heat and 1/2km away from it. When it comes to scan you, boost and then turn around, launch the Research drone and keep your ship and your head cool.
Collect two ancient items of each type (or at least one of each and two orbs) on the surface of SYNUEFE TP-F B44-0 CD || 1 || 59.33 // 15.1.
Thargoid sensor near the interceptor crashed on HIP 17862 || 6 C A || 30.32 // -98.61

Thargoid probe, closest to the ammonia planets of HIP 15310, in signals threat 2 // Much easier in non human-signals thread 0, 5 or 6 in systems attacked by Thargoids.
Thargoid link, after having recovered a sensor because you won't be able to open the doors of the Thargoids Structures' doors without it. HIP 14909 || 2 A || -26.5 // -27.5. Enter the base and then go down to the room with  the three links. If when you approach the reactors, they are invisible: log out and in 🙂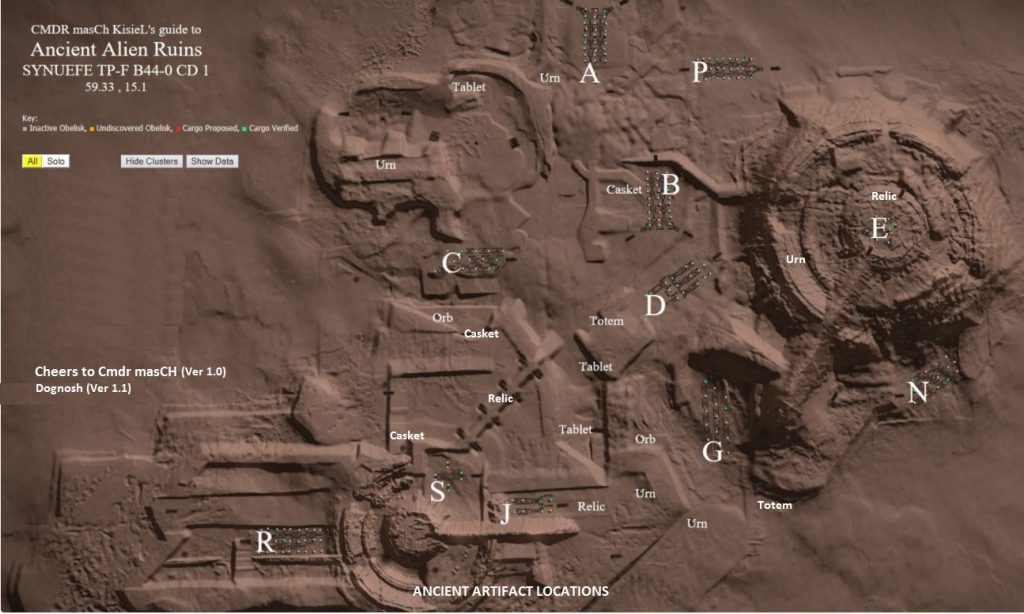 Relic, Re (at the top of the pillars, be careful when you shoot at it)
Totem, To

Casket, Ca

Urn, Ur

Tablet, Ta

Orb, Or

Sensor Thargoid, TS
Probe Thargoid, TP
Link Thargoid, TL
Thargoids Tissues Sample "Cyclops"
Thargoids Tissues Sample "Basilisks"
Thargoids Tissues Sample "Medusas"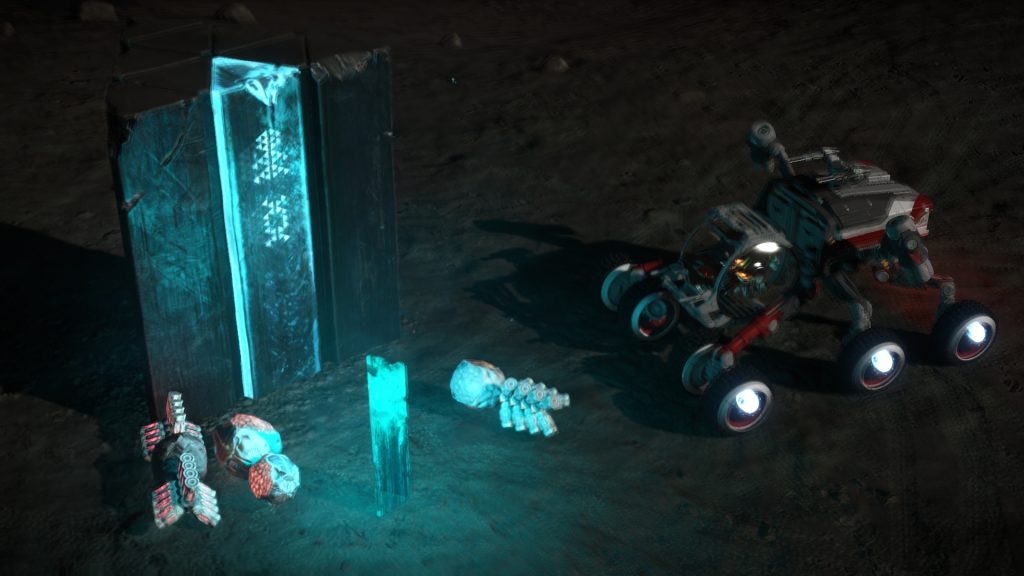 The combos – Guardians Structures and obelisks
Thanks to Ram Tah, you will be able to see every Guardians Structures via your left hand panel as you approach it from at least 1000ls.
/!\ Important note: Once you scan an obelisk, you will hear the "incoming mission critical message" but wont always receive the message immediately. At this point, check your rewards and see if it has gone up by 1 million, If so, the combination was correct. The missing message will arrive on your next scan, making it seem like you got the data from the second obelisk you scanned.