This post is also available in: Français (French)

Our weekly Elite: Dangerous summary: "The Outpost #63" is back!
As always, if the article pleases you, do not hesitate to share it with as many players as possible to help us spread the information. Be ready for this one, it summarises three weeks of content! I advise you to eat a Kobe beef stew with cream, and a Bragurom Du beer to complete the reading.
► In 2.3, the main Outpost image will change, send me your pics! ◄
► I need a Cobra Mark III, an outpost, and a great landscape ◄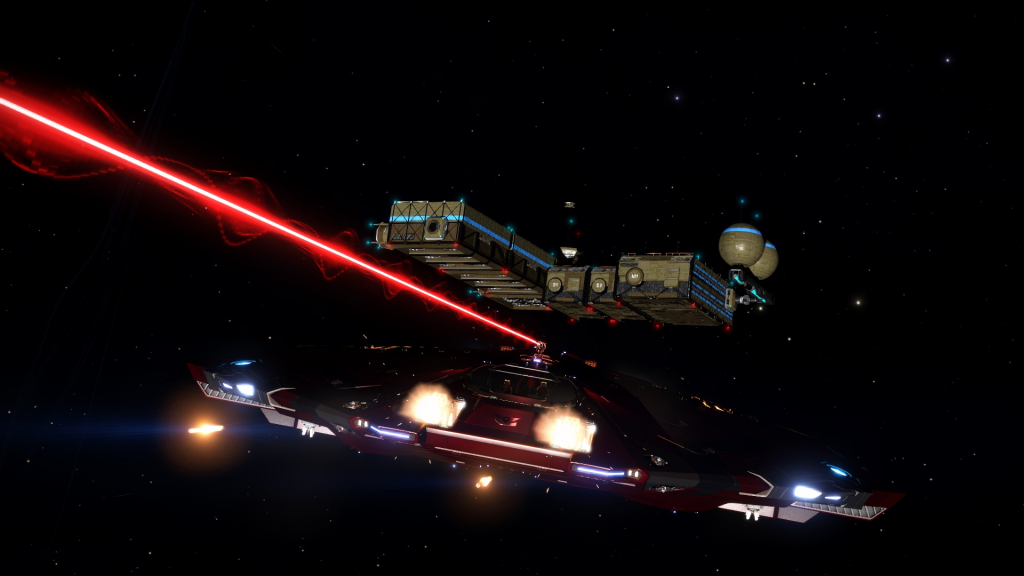 Frontier News
Structured summary – 3 to 24 March
I can't quote all the sources I used here, but I confirm them as accurate.
Tie your belts and let's summarise these last three weeks in Elite: Dangerous! It's mainly about the 2.3 Commanders:
Reputation gain to a superpower is increased by 25% when gaining reputation in an affiliated faction;
Hull Reinforcement is now buffed by 10% compared to 2.2.03, in order to balance it with the Reinforcement Modules;
Railgun have better armor penetration (against large vessels) and reduced heat generated by firing by 15%;
The shields' resistances, in relation to the number of pips points attributed to the SYS Distributor, has changed:

0 = +0%
1 = +15%
2 = +33%
3 = +~45%
4 = +60%

Orca: Mass decreased, which means a buff to speed and jump range;
Diamondback Explorer: Module C2 added, Mass decreased (speed/jump range);
Asp Scout: Additional Module C2, replaced the C4 module by a C5 one;
Beluga: Mass decreased (speed/jump range);
Fighter Condor: Transverse acceleration improved;
Nameplates: We all can name our ships via the customisation panel, and everyone will be able to see our ships' names when we are targeted. However, to display the name on the ship, you will have to buy a pack from the Frontier shop at 2.5 €. There should be three packs with three different designs. Each of these packs will include three design colors: black, white and grey;
The Remlok pilots suits can be customised too, here is the customisation list;
Other pilots' customisations will be available, we don't know which ones will be free or not, yet.
Season 3 and Season 4 are under active development, the flagship features are decided;
Development of many basic and diverse lives is ongoing as well, however intelligent life will be rare. Developers try to create many variations and not just color changes: from simple rhinos on the surface to lives in gaseous planets. We could hunt certain creatures and get commodities from them, to sell;
Planets with atmospheres will be introduced in stages, and will remain in the field of the scientifically correct while adapting the gameplay around it;
Gaseous planets may not be accessible because of pressure, danger, visibility if one goes too deep in them. However they could remain open to discovery on the surface, to scoop various resources here. This would remain very dangerous;
They are thinking about systems to protect populations on the surfaces, such as large domes or shields, so they are not bombarded by the first pilot to come;
Squads missions will arrive soon, we are on the right track with chain missions;
It is true that the Multicrew is reduced to simple and quick roles (Pilot, Hunter, Gunner), but developers have plans to extend these features more widely;
Space Legs, or being able to walk with our pilots, seems to be very, very far in the development plan. This would be a brand new game in the game;
The Mega-Ships will be really important in-game and will bring various things, from Lore to gameplay;
The Repair drones are still in the sheets, no ETA no guarantee, but it will surely arrive later. Perhaps even Bounty-tracer drones!;
For those who don't own Season 2 Horizons, the 1.8 will include:

Ship naming
Mega-ships
Asteroids Bases
Ship balancing
Camera suite
Missions

Engineer Ram Tah should continue to play an important role in the Lore. His scanners mods could play a role as well;
Improvements in the management of the bookmarks are underway, but nothing official to announce;
Shield Boosters: Starting at +80% of the base value, the added bonus will be less powerful. The maximum will cap at +150% of the base value from the shield (mods are counted in the calculation);
The Hardness of the Corvette, Cutter, Anaconda have been improved to make them more resistant to different weapon sizes. They will eventually have less powerful shields compared to 2.2.03, but will be much more resistant to small C1 and medium C2 weapons;
Huge C4 weapons benefit from a +160% boost to Hardness penetration, +80% for C3 Large weapons;
Railguns and Plasma Accelerators count as larger weapons than they are;
My 2.3 Launch date guess: between the 3 and 7 April;
And finally, my vision of the Lore in 2.3. This is purely theoretical, but do not read if you do not want to be spoil.

Meta-alloys are used to strengthen defenses against Thargoids vessels. A very large quantity was recently stolen.
Armaments tests of phenomenal power are underway, hence the recent mysterious explosion of an asteroid.
Large quantities of Tantalum (Ships fuel/explosive) are harvested on the Prism system, without the support of the Empire.
Is a secret rebel army with new technologies preparing for something? Against the Thargoids or against our own powers?
The video below shows a modified Cobra & ASP (with peaks) possibly using Meta Alloys. These are apparently outlaws and they investigate on an alien base! There are Barnacles, organic tunnels, a Thargoid scout. The Cobra would, in my opinion, contain the two fugitives who had stolen the Meta-Alloys, while the ASP would belong to Professor Melville, who was mentioned in the Outpost #59. The teacher apparently knows more than Ram Tah and takes this group of thieves on this Thargoid base: Lore 2.3. What do you think ?
Modified Asp and Cobra, the two Meta-Alloys thieves, Tunnel and Thargoid Design
Barnacles peaks, Thargoid base, Modified ships and Thargoid Scout
Developers and Community
A dedicated space to Devs' messages from the forums and social Medias.
[PlayStation 4]

The Elite PS4 version should go out during Q2 2017, which means between April and June. – Source PAX East – Sandro Sammarco, Lead Designer
The other official comms are in the summary above.
Remlok Industries
The site resumes its activities after my 3 weeks of vacation/rest! Many things are coming and I better organise my days to effectively produce more content for you.
◘ Development side
We improved the reading on the site, it should be less tiring on the eye during the reading of long guides. What do you think of this new font color?
Mobile navigation is always something we care about, but it's a lot of work. We have identified the obstacles in order to facilitate the development, it will come gradually. Thanks for your patience =]
The menus have also been improved
The problems of images on certain resolutions, I also have that in sight, but it is something that will need study as it must be mobile compatible without breaking my current settings
Other ideas but I would not go that far, so you don't get false hopes on features. We will let you know if we continue with certain ideas and if we can develop them. Send us your feedback on Discord!
◘ Editing side

2.3 will finally bring the last piece of base guide: The Complete Fighter Guide
The Federation, Alliance, Empire, Raxxla, Lore Elite are projects that might arrive soon enough, as they are already prepared on my side
It progresses well: a complete rework of the Trader Bible. What is that? You'll see!
New Players' groups spotlights! Feel free to use the Contact button if you want to discuss about your group with me
New guides and news about 2.3 Content, like the Multicrew, Lore, Features, as long as Power Management, Powerplay, and a huge chapter on Engineers and Materials.
Remlok Industries minor faction Lore progression.

There are some confusions around Remlok Industries, here are the terms I use:
The Remlok Community, brings together the Elite: Dangerous players. You are those appreciating the content I create and you regularly follow them. You might have joined the Discord to discuss with the hundred of Members, or maybe you are following me on Twitter (or @RemlokEN). You are "my" community, and no, there is no ring to throw in a Volcano! 😀
Remlok Industries is the website you are currently visiting. Simple one.
The Remlok Industries Group. These are Associates and Engineers contributing to the progress of our Remlok Industries minor faction.
I can't wait for 2.3 so we can learn more about 2.3's Lore!
→ We are also looking for two new Editors, available on the long term. Regular attendance on Skype and/or Discord is necessary.
These two new recruits will need certain skills to lead their roles:
As you progress with Remlok Industries, you will be introduced to various Elite: Dangerous Content creators, or even to Frontier Developments employees. If you want to work in the video game industry, it is a step towards success!
The roles aren't paid, you are a volunteer on this project. However, you will be able to earn some goodies, rares paintjobs, decals, invitations to special events organized by Frontier or Remlok, … while improving your knowledge and skills! Our team is serious, helpful and brotherhood-ish: like the Elite community.
We can't wait to read your applications! They will be rigorously studied and we will reply as soon as possible.

Powerplay and Lore
Powerplay is an ongoing battle for interstellar conquest and control. Players can choose a Power, help guide their strategy, and take on special objectives to advance their shared cause. Player choices and actions have a direct and visible impact on the balance of galactic power.

◘ 20 March – Recent reports indicate that a garbled distress call from somewhere in the Col 70 sector has been received. The news has been met with surprise from some quarters, given that permit restrictions have made the sector relatively inaccessible. "We're not sure what to make of it," said Perry Hussein, a member of the Federal intelligence community, "but it was definitely a distress call and the ship that sent it appears to have been destroyed. The telemetry indicates it was an older vessel, perhaps Cobra class."
◘ 23 March – Authorities in the Lidpar system have reported a sharp increase in the number of criminals operating in the area. Reports indicate that the agitators are attacking pilots travelling in the system, disrupting trade and generally spreading discord.
To counter this threat, the Union of Lidpar Green Party has placed a kill order on all wanted ships operating in the Lid system, and has promised to reward pilots who deliver bounty vouchers to Carlisle Station. In addition, the Union of Lidpar Green Party has promised to reward pilots who deliver battle weapons, reactive armour, and advanced medicines to Carlisle Station in the Lidpar system, to support local security forces.
◘ 24 March – Three of the five individuals responsible for the recent theft of meta-alloys from Darnielle's Progress have been positively identified, following analysis of starport security footage. Remarkably, one of the perpetrators has been acknowledged as Commander Salomé, also known as Kahina Tijani Loren. Loren was sentenced to life imprisonment last year for the attempted murder of Admiral Denton Patreus, but when her convoy was destroyed en route to Koontz Asylum it was assumed she had been killed. Responding to the news, Imperial authorities promptly placed a galaxy-wide bounty on Salomé to the tune of 500,000 credits. Meanwhile, Princess Aisling Duval released a brief statement:
"Commander Salomé is a disgraced senator and a convicted murderer. She incites violence wherever she goes, and in the interest of public safety she must be stopped. I urge all those loyal to the Empire to deliver justice to this criminal."
Salomé's accomplices have been identified as former MetaDrive employee Raan Corsen – previously believed deceased – and former Junior Alliance operative Tsu Annabelle Singh. The Empire has placed sizable bounties on both individuals. Imperial military sources issued the following advice to those interested in pursuing these bounties:
"These individuals should be considered armed and dangerous. Make no attempt to communicate with them. Shoot on sight. Visual evidence of a target's death will guarantee the relevant bounty."
Salomé's current location is unknown, but she is believed to have fled the core systems.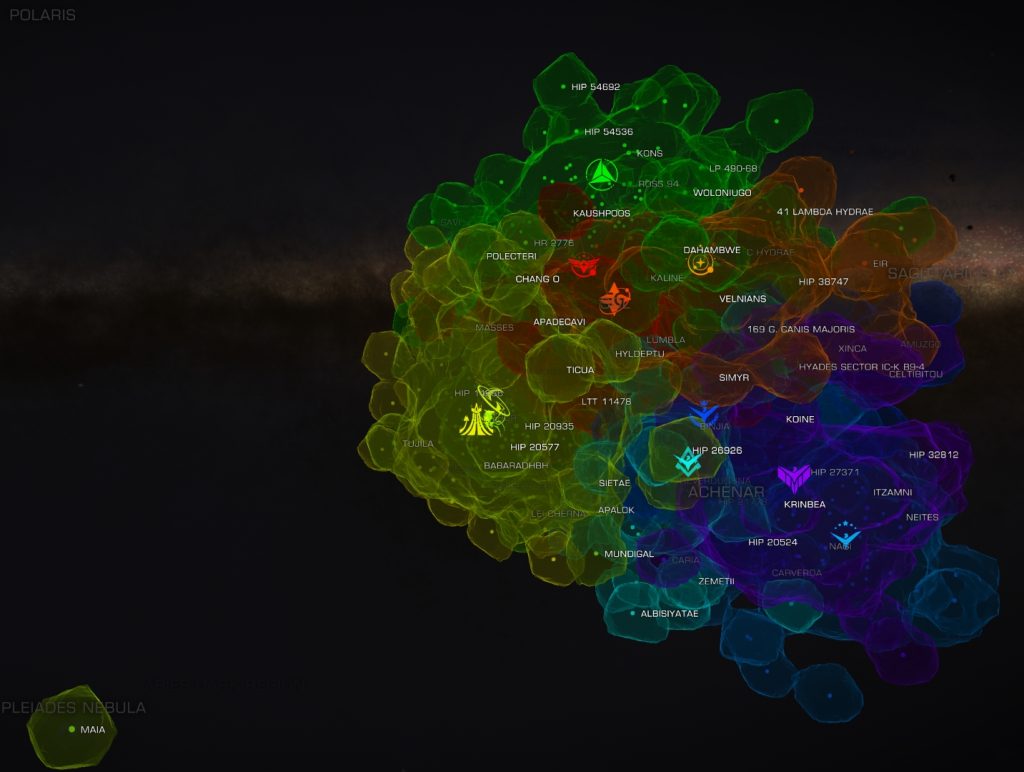 Community Goals
Community Goals allow the community to work together on an ongoing project within a system. Fight, trade, smuggle, explore and help the factions and super powers to achieve their goals. There is no good or bad CG, write your & Elite's stories while earning credits!

Three Community Goals this weel: Transports and Bounty Hunting.
◘ Colonia Migration Appeal IV

Location: Jaques Station | Colonia
Objective: Deliver Galactic Travel Guides

Rewards: Creation of multiple minor factions in the Colonia bubble

Progress: 0/1
Until: 6 April
Description: Gather your Galactic Travel Guides via the LHS 3447 system, Bluford Orbital. For more details, check the Colonia's immigration website.
◘ Restoring Order in Lidpar (Trading)

Location: Carlisle Station | Lidpar
Objective: Deliver Battle Weapons, Reactive Armour (Advised for profit) and Advanced Medicines

Rewards: Credits

Progress: 2/8
Until: 30 mars
Description : See Lore
◘ Restoring Order in Lidpar (Bounty Hunting)

Location: Carlisle Station | Lidpar
Objective: Deliver Bounty Vouchers
Rewards: Credits

Progress: 1/8
Until: 30 mars
Description : See Lore

Pics of the Week
Let's start with three wonderful pics from the PAX East + a pic from ED: RPG Gunship

Here are DetectiveTaco and its Corvette near a pink-ish cute black hole, Cramat and its miniature planet as well as Divergent in his courier.

Aren't these SRV creations fantastic? Congratulations to Septer!
Namsel7 totally got me with his 2.3 HD screenshots. By the way, ready your skills because Frontier will organise an officiel videos contest in 2.3!


Videos of the Week
This month's best video to me: Tristounet and his 2.3 video: APERIO. /!\ Epilepsy Warning

You might have missed these details, it is now easier to see in 2.3 thanks to the new camera system. Some ships are… special 😉 Video from Mobiousetti
Do you like the Outpost? We'd like to hear from you in the comments!

Share this to your friends! 🙂