This post is also available in: Français (French)

As we enter a new week, Nicou is still here to bring you the newsletter: "The Outpost #57"!
► Send me your best pics of your Cobra next to an outpost! ◄

Frontier News
Formidine Rift, Conflux, and Hawkin's Gap
New discoveries have been made in these mysterious places: planetary bases unveil their secrets! Data points could be scanned in order to obtain some rather troubling information. Let's decode them together together:
Alpha Site – Many beacons are launched in space and no one knows why. The staff go crazy, these lights … they call me … this siren song … the lights … join them … CANOPY BLAST BOLTS ACTIVATED. LIFE SUPPORT MALFUNCTION. CREW VITAL SIGNS TERMINATED. SHIP SYSTEMS ENGAGING STANDBY MODE. DISTRESS BEACON ACTIVATED.
Beta Site – Discussions about a Dynasty Project, a group of explorers gathered on this point, there are very few stars here and it is dark, which makes the explorers uncomfortable. They have deposited many parcels of cargo. Some FSD jump problems reported, the ship was left on the spot because the FSD module was KO.
Beta Site – Another group interdicted while in hyperspace, the explorers are apparently in a hurry. Asks questions about the Witchspace during hyper space jumps, why these lights? Why these forms? Why these clouds? Witchspace looks different in the Conflux.
Alpha Site – Their freighter contains strange technological things, like satellites but very bizarre. The crew is not allowed to approach the cargo. All the pilots are eager to return from this long expedition but they prefer here only to Formidine Rift because the rumors tell that the pilots to Formidine Rift become totally crazy, to the point that reinforcements had to be sent for the transport of the cargo. It is said that they saw ghosts…
Delta Site – A massive Anaconda fleet, no affiliations, no political signs, no logos … someone with a lot of money had to pay for it. The large fleet then split into smaller ones and the freighter is full of … things, a series of artifacts. Apparently it is for an exploration and surveying of places. Those who deal with these artefacts are not part of the crew, the pilots do not know who they are and the orders are not to look at them and let them do "their thing".
Developers and community
A dedicated space to Devs' messages from the forums and social Medias.
[Mystères]

The behaviour for solo sounds correct, but the open situation sounds like it's revealing more than it should. We'll look into it, but I don't think you're missing anything that should be able to access. – Source – Michael Brookes, Executive Producer
We have summarized the details of this Q/A session. Discussions are centered on Background Simulation and Instances.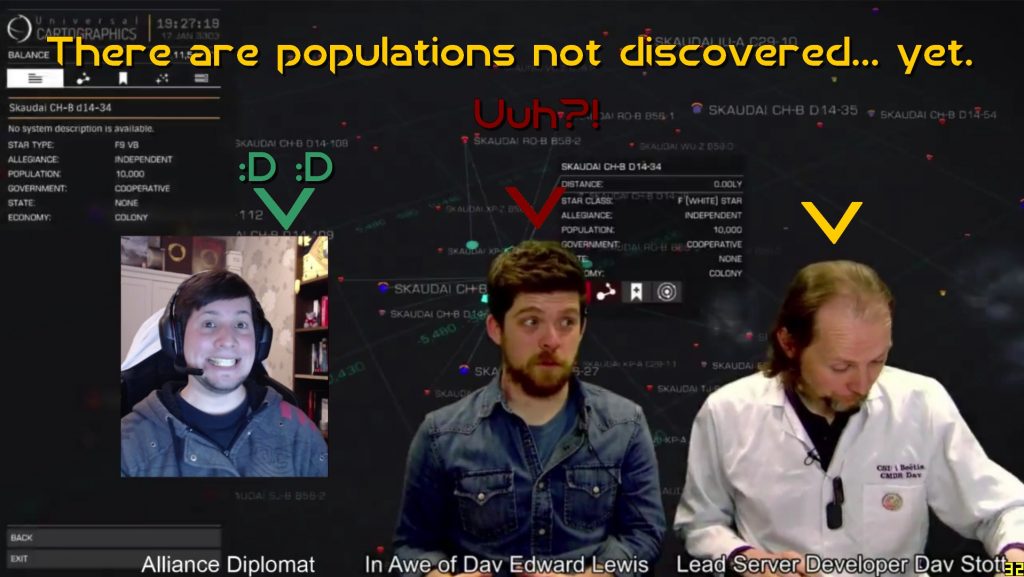 Trading Update – Frontier's Stock
I regularly keep you informed of the London Stock Exchange – Frontier Developments. The company being public, we can access the results highlighting information about the economic health of the company, but also the progress of future developments.

The release of Planet Coaster delighted the players and brought back big money with 500m sold units;
The announcement of the release of Elite: Dangerous on PlayStation 4 has strongly gained market share at Frontier;
Elite: Dangerous continues to deliver and achieve the goals set by the company. 2.1m units were sold as of December 2016;
66% increase in earnings compared to last year, with an income of £ 18.1M. The pounds loses in value but steps have been taken to counter this;
Net Balance as of November 30, 2016 of 6.7M £, everything looks good and investments continue.
Frontier thus remains in good position with funds of very good omen, the sales increase and, thanks to their switch over to Developer/Editor they gather all the precious pounds.
Planet Coaster is a great success and updates will continue, a free first called "Winter" has been proposed to the players but I do not doubt that paid packs will be introduced in order to continue tthe investments on the game.
Elite: Dangerous progresses well, but unfortunately we are still in season 2. The sales of cosmetic items in the shop help them in order to continue the investment for the moment. Apparently they are planning on a chance in order to stop Seasons of 1 year, and propose regular DLC packs. In the season 2 contract, we are waiting for the 2.3 Commander as well as the 2.4 "surprise" embellished with minor updates between them.


Powerplay and Lore
Powerplay is an ongoing battle for interstellar conquest and control. Players can choose a Power, help guide their strategy, and take on special objectives to advance their shared cause. Player choices and actions have a direct and visible impact on the balance of galactic power.

◘ 16 January – Professor Ishmael Palin, independent scientist and leading authority on xeno-biological research, has added his voice to the debate over sightings of mysterious spacecraft. In a statement, Professor Palin said: "I have no wish to be alarmist, and I can understand why the galactic superpowers have issued a somewhat noncommittal response. But suggesting that these craft may be of human origin, or the product of a hoax, rather stretches plausibility." // "To my mind, there is a clear visual connection between these mysterious vessels, the shipwrecks found in HIP 17862 and the Pleiades, the Unknown Artefacts and the Unknown Probes. And I believe we can draw only one conclusion: we are sharing the galaxy with an intelligent non-human species. We therefore have an obligation to discover as much about this species, and its intentions, as possible."
Independent engineer Ram Tah, who has been leading research into the Synuefe ruins, also commented: "I share Professor Palin's view that these reports are of great significance. But attempts to communicate with these vessels have proved fruitless, as have efforts to discern their point of origin. We must learn more about these ships and whoever – or whatever – is piloting them."
◘ 19 January – It is widely understood that Unknown Artefacts have the ability to extract materials from their immediate environment as part of a complex self-repair process. Unfortunately, this can have disastrous effects on starships and other forms of machinery. Perhaps the worst affected by this phenomena have been the galaxy's starports, many of which have had to suspend services as a result of Unknown Artefact-related disruption. The high prices offered for Unknown Artefacts on the black market means many starports have been flooded with the mysterious objects. And although meta-alloys can be used to counter Unknown Artefact-related interference, the scarcity of the material means this potential salve has had little impact.
But a recent announcement from the Sirius Corporation indicates that the company intends to tackle the issue by funding a major new research and development project. The purpose of the project is to make starports and other outposts more resistant to Unknown Artefact-related interference through the application of specific microresources. In support of this programme, the Sirius Corporation has placed an open order for unknown fragments, untypical shield scans and aberrant shield pattern analysis, and promised to reward pilots who deliver these materials to Cormack Hub in the Procyon system.

◘ 19 January – [Federation Victory] Authorities in the Parun system have reported that the Laksmii Jet Power Industries plot against the Independents of Parun has been foiled. The operation centred on smuggling various items into Underwood Port so Imperial agents could use it to conduct guerrilla attacks against the Independents of Parun, the system's controlling faction. After learning of the plot, the Independents of Parun placed bounties on Laksmii Jet Power Industries ships operating in the Parun system. The strategy resulted in the destruction of hundreds of Laksmii Jet Power Industries vessels, severely undermining the organisation's plan.
◘ 20 January – A spokesperson for the Sirius Corporation has announced that its appeal for microresources has been enthusiastically received by the galactic community. Hundreds of pilots responded to the corporation's appeal by delivering Unknown Energy Source, Shield Density Reports and Shield Pattern Analysis to Cormack Hub in the Procyon system.
As the campaign drew to a close, Li-Yong Rui, CEO of Sirius Gov, released a statement: "While irresponsible fortune hunters continue to destabilise the galaxy's starports by selling Unknown Artefacts on the black market, the galaxy's superpowers stand idly by, mired in bureaucracy and paralysed by indecision. Well we say: no more." "I will do everything in my power to put an end to the technological plague and restore the galaxy's starports to functionality. The effort to conquer this epidemic starts now."
◘ 20 January – Animosity between the Empire and the Federation has been growing for months, but leaked communications suggest that clandestine negotiations may be taking place between the two superpowers. Jason Nygaard, a reporter for The Federal Times, said: "We believe the Federation is meeting with Imperial dignities behind closed doors. The nature of these meetings isn't clear, but we have noted unusual ship movements around the historic Cambridge space port."
Cambridge, once of the few ancient Earth cities preserved in its historic form, is notably free from surveillance. It has been associated with many remarkable events in its long history.

◘ 20 January – Earlier this month the engineer Ram Tah launched his research project to investigate the ancient ruins in the Synuefe XR-H d11-102 system. Since then hundreds of pilots have answered the call and begun to discover hidden data about the race that seemingly built the structures. Now Ram Tah  in association with United Meene Labour has issued an appeal for the following obelisk data types Alpha, Beta, Gamma, Delta and Epsilon from the site to aid him in locating other sites as part of an ongoing research project. The organisation has promised to reward pilots who deliver this data to Felice Dock in the Meene system.
When contacted Ram Tah released this statement: "The information about the "Guardians" that has been discovered so far has been very exciting, but this is only the tip of the iceberg so to speak. All evidence points to the fact that this is not an isolated site, there are others out there and my research must now move to finding these locations." // "With the help of other like minded pilots I hope to use the various data types to unlock the Guardian monolith network and use it to find other sites."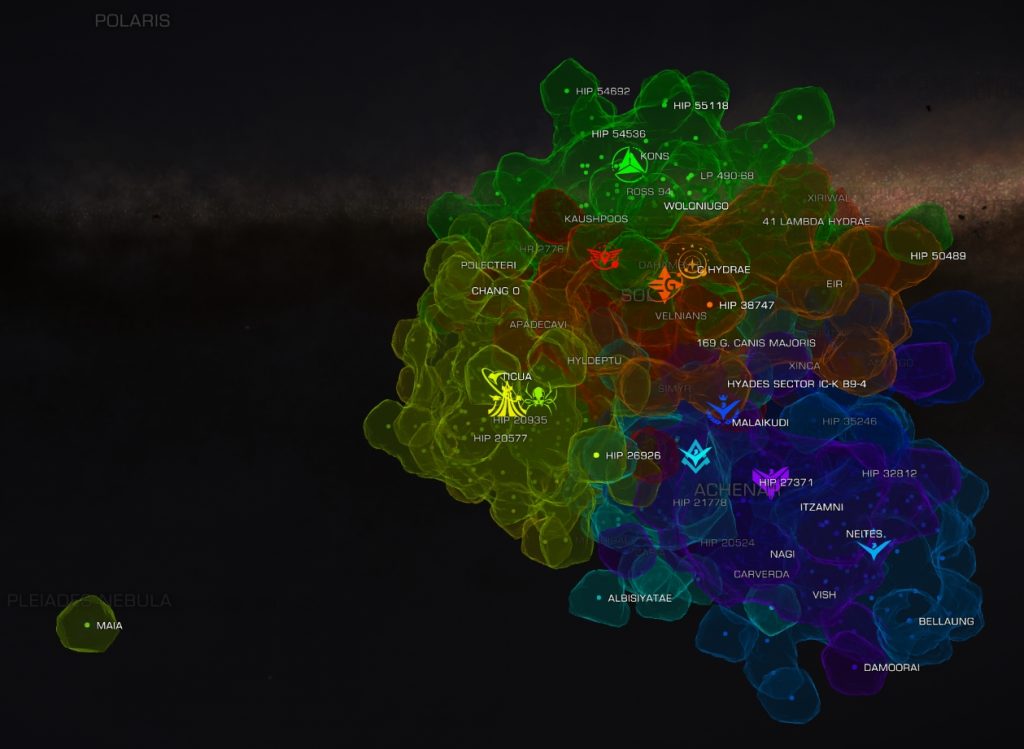 Community Goals
Community Goals allow the community to work together on an ongoing project within a system. Fight, trade, smuggle, explore and help the factions and super powers to achieve their goals. There is no good or bad CG, write your & Elite's stories while earning credits!

Three Community goals are available this week: Transport and Combat.
◘ Colonia Migration Appeal II

Location: Jaques Station | Colonia
Objective: Deliver Galactic Travel Guides

Rewards: Creation of multiple minor factions in the Colonia bubble

Progress: 0/1
Until: February 2nd
Description: Gather your Galactic Travel Guides via the LHS 3447 system, Bluford Orbital. For more details, check the Colonia's immigration website.
◘ Ram Tah appeal for ancient data

Location: Felice Dock | Meene
Objectives: Deliver Data types Alpha, Beta, Gamma, Delta and Upsilon

Rewards: Credits and possible discoveries about other Ancient Sites

Progress: 0/6
Until: 26 February
Description: See Lore
◘ Sirius Corporation address the Unknown Artefact Issueadresse le problème des Artefacts Inconnus

The Sirius Corporation event has been terminated earlier than scheduled. It will pop again, soo. See Lore.

Pics of the week
Astounding pics this week, continue to send them on Discord!
The Great Remlok Expedition is still  happily going on with fun and mutual help! Check out some participants' pics.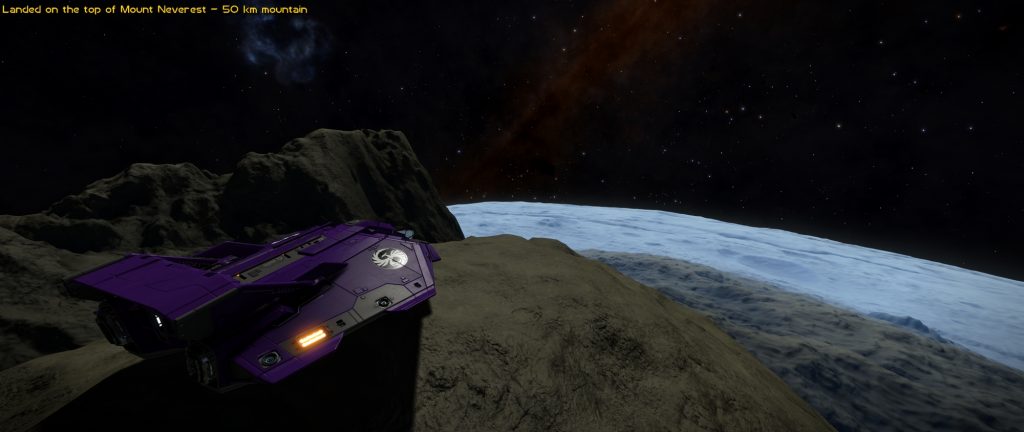 Maynoor is delighted with his Python kit while MajorJetLagg offers a superb view of a sunrise with his Corvette [HD].
XPi2 is the supreme guardian, on the ancient site of Synuyfe [HD] ! DrStef meanwhile drunk a little too much Lavian Brandy…
We finish this series with Isaiah Evanson – magnificent Fer de Lance with blue-ish shots. [HD]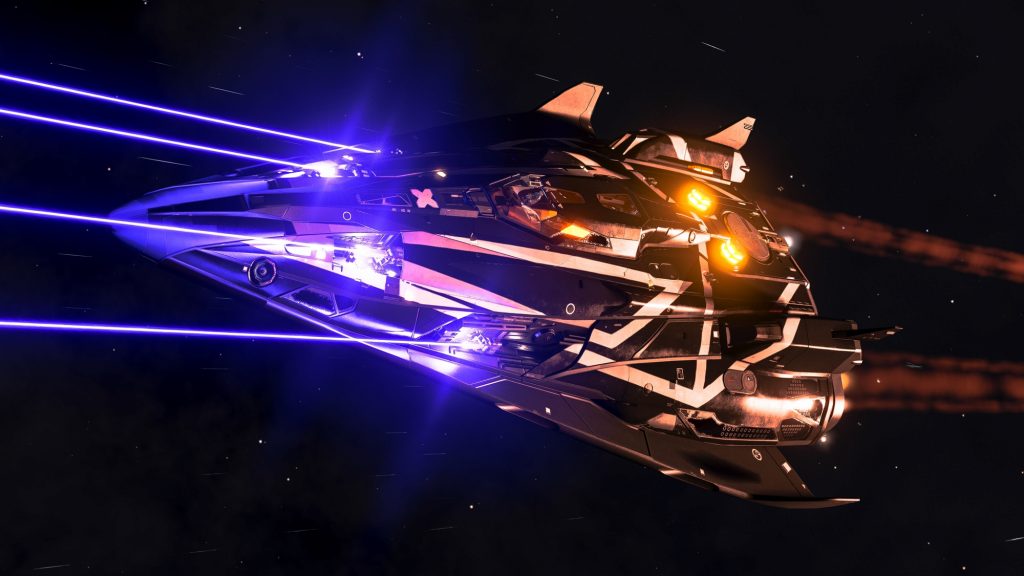 Videos of the week
Two PvP videos this week with quality combat!
Rinzler proposes a fight between a hybrid Dropship and a Courier Bombardier. Both gameplays are excellent, but Rinzler had a stroke of genius in thinking about ship's hardness. Indeed the Courier is very light while the Dropship has an incredible resistance.

I also laughed a lot with the PvP video of PeLucheuh. A Federal Assault in form for a humorous full SDC editing!
The first jump of the event Distant Stars, a non-return journey far from the galaxy.
Feel free to share and discuss this week's content! Are you pleased with the Outpost?